Confirmation Details
July 6 - 8, 2022 Confirmation
CONFIRMATION DETAILS
July 6- July 8 2002
Dear Elite 100 participant,
We look forward to having you attend the Elite 100 at Catawba College on July 6 - July 8 2002 (2023,2024,2025 and 2026 Graduates) Please be sure to read all the important information below.
If you registered as an overnight camper, accommodations and meals will be provided.
Hotels: Elite 100 has partnered with local hotels in close proximity to Catawba College to provide a discounted rate for families. You are not required to stay at one of these hotels, it's an option for families.
TEAM ASSIGNMENTS:
We assign players to teams by graduation year to teams so college coaches can evaluate players by class. We are unable to move players to other teams, this is done so the rosters are balanced by position and graduation year.
GAME SCHEDULE:
** If game times are affected because of weather, we will communicate this to you through email and will also post on our instagram account @elite100lacrosse
All Star Games: If you are selected to compete in the All Star game Thursday evening, rosters will be emailed and posted on our website Thursday afternoon, please be sure to check our web site www.elitelacrosse.com . Players will report to the stadium 20 minutes prior for your game time.
College Coaches attending: Elite 100 will again have over 100 NCAA Division I, II and III college coaches on staff for the entire 3 days. The list of colleges is in the link, we will continue to update this list as more college coaches confirm their attendance. Every coach attending will receive a book with your information for recruiting purposes.
College Coaches: https://elitelacrosse.org/elite-100/staff
We Will also post a list after the event with other college coaches that attended that were not on this list.
Next Level Video Game Film: If you choose to purchase film or highlight film Next Level Video will be at the event, this film can be purchased prior or after the Elite 100
Check in will take place at Catawba College on July 6th between 9:00am-11:00am
Parking: Public Safety will direct you to parking when you arrive on campus.
Check Out: Will take place on Sunday July 8th between 12:00pm and 4:00pm depending on when your last game ends, there is no formal check out, may depart after your last game. The All Star games will be played Saturday night.
Directions to Catawba College : 2300 W Innes Street - Salisbury, NC 28144
Fields: All games will be played on three fields.
Each participant should bring the following equipment: water bottle ( we will have coolers of ice water but no bottles) stick, helmet, gloves, arm pads, shoulder pads (Goalie chest protector), protective cup, mouth piece, cleats or turf shoes, sneakers (for turf, indoor and recreational use), plus any other optional protective equipment. Comfortable summer clothing is recommended.
Store and food: Elite Lacrosse will have t shirts, sweatshirts, long sleeve t's, shorts, snacks and beverages in the camp store. We will also have food trucks on site if you wish to eat while at the event, players and families are welcome to bring their own food and drinks.
Spectators: Family members are welcome to attend the games.
Medical Staff: We will have an athletic trainer on each field for any assistance you need prior, during or after games.
Social Media: Next level video will be posting many of you on our social media accounts for exposure to college coaches, if you would like to follow us on instagram at ELITE100LACROSSE
Again, we are excited to have you at the Elite 100. We believe we have the finest group of coaches that will make your experience rewarding.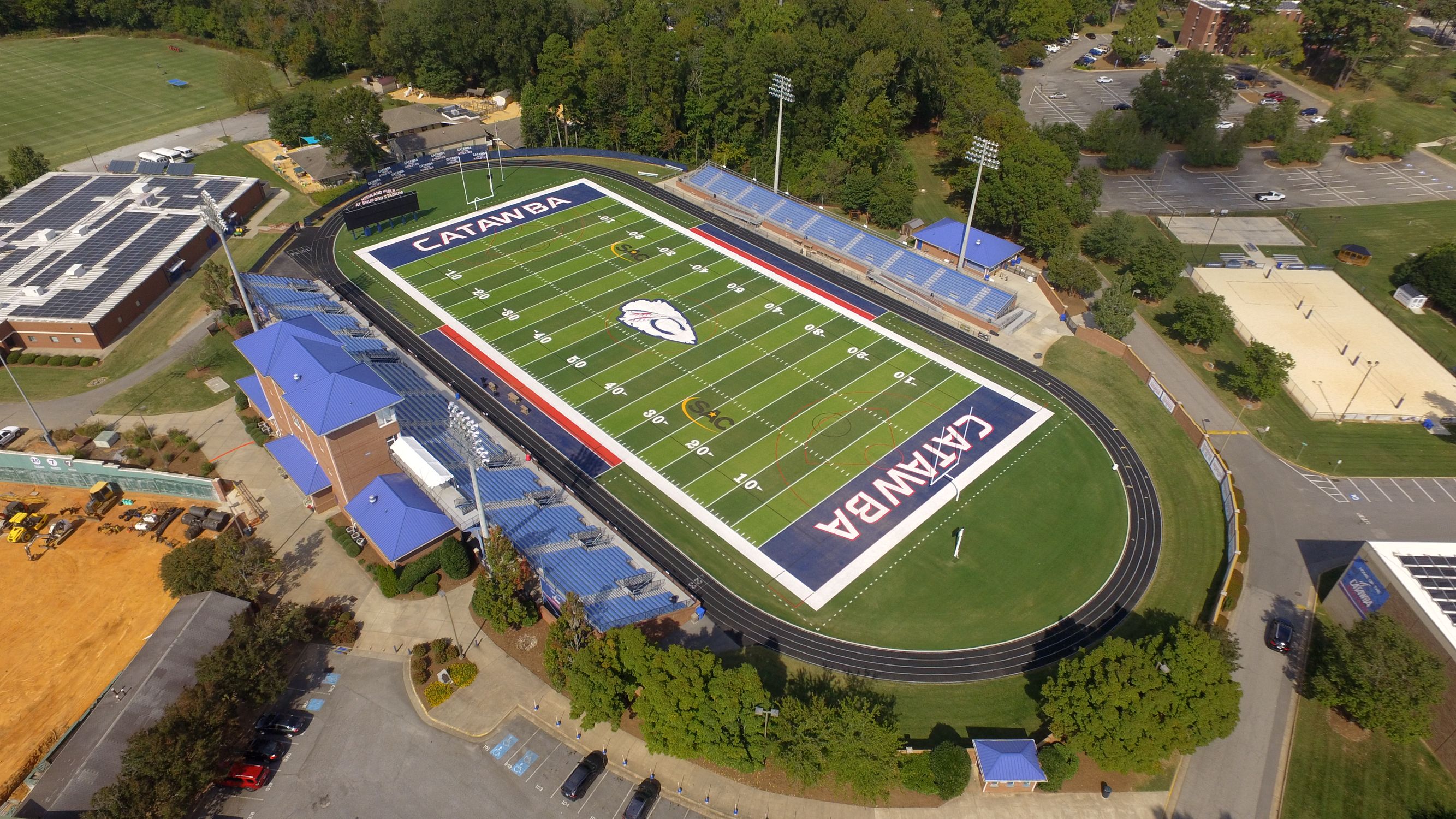 Elite 100 South Stadium at Catawba College